Metalphoto
Trusted Where Permanent Identification is Critical
Metalphoto is photosensitive, anodized aluminum used to make durable, high-resolution nameplates, labels, and control panels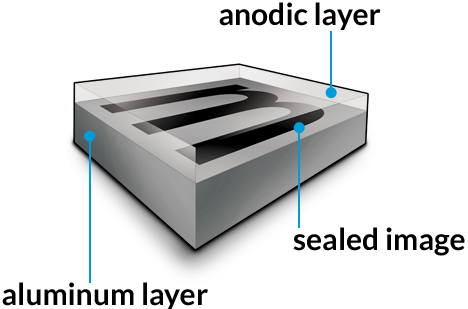 Metalphoto's durability comes from its image – which is sealed inside of the anodized aluminum, providing corrosion, sunlight, abrasion, temperature and chemical resistance. Its unique, photographic imaging process creates ultra-high resolution graphics and variable information – including machine-readable barcodes, anti-counterfeit security features and serialized data.
 
Since its development in 1950, Metalphoto has been trusted by leading OEMs, military and government organizations for nameplate, label and control panel applications where permanence, resolution, variable data or a combination of those characteristics is required.
View Data Sheet
Why to use metalphoto
Durable Construction Means…
The Confidence of Legibility
Metalphoto's archival, silver-halide based image is sealed inside of anodized aluminum, making it readable after prolonged exposure to a variety of harsh operating conditions including weather/sunlight, heat, abrasion, chemicals and salt-spray.
The benefit is fewer label, nameplate, sign or control panel replacements due to illegibility – that means guaranteed regulatory compliance, asset identification and brand representation.
Variable Information Capability Means…
Automated asset tracking, guaranteed traceability, fewer data entry errors and faster processing
 
Metalphoto's ability to create hundreds, thousands, even millions of unique labels or nameplates is a function of its unique imaging process.

The benefit of this process is that Metalphoto labels and nameplates can contain "item-unique" serialized data, one of a kind instructions and/or barcodes of any symbology.

Durable barcodes connect assets to cloud-based computer systems, reduce data entry errors and speed the process of identifying assets properly.
Photographic Resolution Image Means…
High-resolution graphic capability and optional security printing features
The benefits of photographic resolution are three-fold:
Your label, nameplate or panel will always look crisp and clear –

conveying a sense of quality and reliability that will distinguish your brand.

High-resolution images make it

possible to mark small items or surfaces

such as firearms or others where a large label is not feasible.
Optional security printing features such as micro-text and watermarks that

verify the authenticity of your product and protect it against fraud and counterfeiting.
Proven Performance Means…
Guaranteed Compliance
Since its introduction in 1958, Metalphoto has proven itself again and again to major OEMs and government organizations. As a result, Metalphoto is specified by most major government, industrial and military organizations including Boeing, Airbus, Caterpillar, Great Dane, Honeywell, BF Goodrich, NASA, and the United States Navy, Army, Air Force and Marines.